Artistic and Pedagogic Cooperation in the Visegrad Countries
doc. Dr. Miloš Kodejška, Ph.D.
Charles University in Prague, Czech Republic,
EAS (coordinator)- Czech Republic
<![if !vml]>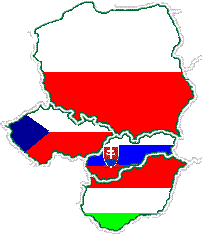 <![endif]>
I have been working in the EAS since 2001 when I took part in the European Music Congress in Riga. In many papers there appeared words such as globalization and national identity. I believe that the organisation EAS helps exchange information and pays attention to preservation of national traditions. I am convinced that Europe will be rich only when it will support national traditions and interchange of important information, documents and teaching tools necessary for high-quality music education.
As you know, there was Czechoslovakia, which split into two Republics on 1st January 1993 – the Czech Republic and the Slovak Republic (Slovakia). Our relations are and most likely will continue to be very good in the future. People from both countries want to cooperate in many areas. One of them is music education. Friendly relations were established naturally among pedagogues from some other countries as well – Poland and Hungary.
On 9th June 2000 the Secretaries of Foreign Affairs of the Czech Republic, Slovakia, Poland and Hungary signed the Visegrad Treaty in the Hungarian town of Visegrad. This small town is located approximately 35 kilometers north of Budapešť. The International Visegrad Fund was founded at that time. It supports projects in areas of culture, science, education, exchange stays of students and the young in those countries. On the present day it offers several types of grants which significantly contribute to convergence of the four Visegrad countries (V4). The grants are as the following:
<![if !supportLists]>· <![endif]>Standard Grants – support broader scientific, cultural and artistic projects that   
      influence life in all four countries (EUR 4, 000 and more)
<![if !supportLists]>· <![endif]>Small Grants – financially help smaller projects, e.g. cultural cooperation; they influence the exchange of scientific teams, research, education, cross-border cooperation and promotion of tourism (up to EUR 4, 000)
<![if !supportLists]>· <![endif]>Visegrad Scholarships – enable students and educators exchanges and short-term research fellowships in the Visegrad countries. These scholarships are aimed at education of post-graduate students, other forms of further education and cooperation in research projects.
<![if !supportLists]>· <![endif]>"In-coming" Scholarships are specific scholarships for students from non-EU countries neighbouring some of the V4 countries. They are aimed at those who want to study in the Visegrad countries.
The field of music culture and education is perceived as a very important one for every society. In various conferences, cultural and artistic meetings the colleagues from the Czech Republic, Slovakia, Poland and Hungary felt the need to solve many professional, music-pedagogical and artistic common issues. This endeavour was especially strong after the division of Czechoslovakia in 1993. Since then we have prepared many artistic concerts, seminars, courses, radio and TV programmes for students and pedagogues both in the Czech Republic and Slovakia. It was an important cooperation at the beginning of which Miloš Kodejška from Charles University in Prague and Irena Medňanská from Prešov University in Prešov were. Miloš Kodejška and Irena Medňanská founded an artistic and professional project of many years´ standing tradition called The Bridge of Cooperation. In 2000 their work was awarded national awards by the Department of Foreign Affairs of the Czech Republic. These activities grew attractive to other university teachers from all Visegrad countries. As  a consequence, the Visegrad Music Team was established in 2007 whose running is supported by the International Visegrad Fund by 50%. The main representatives of the Visegrad countries for 2009 are as the following:
Czech Republic:
 doc. Dr. Miloš Kodejška, CSc. – Team Executive
National coordinator of the EAS for the Czech Republic
Charles University, Prague, Faculty of Education,
M. D. Rettigové 4, 116 39 Prague 1, Czech Republic
e-mail: miloss.kds@atlas.cz
Slovakia:
doc. Mgr.art. Irena Medňanská, Ph.D.- Deputy Head
Member of the European Presidium of the EAS
Head of  the Music Education Department, Prešov University, Faculty of Human and Natural Sciences, 17. Novembra 1, 080 01  Prešov,
e-mail : mednan@unipo.sk
Hungary:
Prof. Dr. Noemi Maczelka, DLA
Pianist, Professor,
Head of the Arts Institute and the Department of Music Education
Szeged University "Juhasz Gyula" Faculty of Education
Szeged, Hattyas u. 10. 6725 Hungary
 e-mail: maczelka@jgypk.u-szeged.hu
Looking back, there lie hundreds of activities behind us. Besides the above mentioned project Bridge of Cooperation, we hold exchange concerts of university ensembles and individuals. These artistic activities meet with an exceptional interest of both listeners and media. Unforgettable are concerts of the Chamber Orchestra of  Charles University in Prague, the ensemble of old music Musica Historica from Prešov, the creation of a vocal programme from the works of Antonín Dvořák, Bohuslav Martinů, Leoš Janáček, a display of historic dances and instrumental concerts. We support the growth of instrumental chamber ensembles at grammar schools in the Visegrad countries. We organised 5 festivals at a grammar school in the Czech town called Mladá Boleslav since 1977 to 2001. We introduced the Brass Quintet from Szeged, the Chamber Orchestra from Krakow and dozens of other secondary school ensembles. Children and young people even positively assessed concerts of folk music, e.g. the ensemble Torysa from Prešov University from Slovakia. Common concerts of ensembles from different countries help create a friendly atmosphere. We can offer, as an example, concerts in the historic assembly hall of Charles University. The Chamber String Orchestra from Prešov University under the baton of Karol Medňanský and other dancing and instrumental ensembles gave a concert there. This concert was dedicated to the Slovakian music scientist and pedagogue Ladislav Burlas. We could assess methodical courses for young choir masters in Prešov in 2003 as very successful ones. About 100 students and the best-known choir masters from the V4 countries took part in them etc. The list of all our activities would be long.
The EAS European Music Congress and the European Student Forum at Charles University in Prague in 2005 were the most significant events in the Visegrad region. Miloš Kodejška was the leader of the international preparative team. He cooperated with the EAS Presidium and other close fellow-workers such as: Irena Medňanská from Prešov University (Slovakia), Jana Palkovská from Charles University (Czech Republic), Markéta Kozinová from the Conservatoire of Jan Deyl (Czech Republic) and many others. The main motto for all discussions was: "Everything depends on a good beginning". The congress was focused on the pedagogical heritage of Jan Ámos Komenský. It was aimed at music education of children of preschool and younger school age. The student forum was a working meeting of university students of most European countries. Students were given a demanding task – to evaluate the real situation in the tertiary education in European countries. Around 200 domestic and foreign scientists, teachers, workers in the music educational system, in music culture, political workers and students came to Prague. 22 countries were represented. During the congress many critical assessments were said. For example, the international discussion under the leadership of Irena Medňanská disclosed a radical decline of a child´s contact with live music and has stated that contemporary lives of the majority of families are oriented materially and in a consumerist way. It leads to the weakening of the educational function of a family and almost eliminates the so called family music-making. We have noticed  emotional deficit by children and real poverty in their cultural growth. Much responsibility is being transferred to kindergartens and lower elementary schools which cannot fully substitute a family nor satisfactorily guarantee the progress of music abilities by all children. In addition to the above mentioned, it is necessary to denounce the politics of economy drive in the new EU countries which keeps reducing artistic education. Various researches have shown  that a healthy growth of personality is possible only in the case when rational and emotional elements are in balance.
Also universities preparing teachers of children of preschool or younger school age have their reserves – especially in the amount of lessons for the creation of music skills. It is impossible to expect the first-rate music education of children without a high quality of teacher´s singing and playing a musical instrument. These thoughts were univocally confirmed by the participants of the European Student Forum. The authors of new study programmes cannot still conform educational goals to economic criteria! Is the cultural deficit not more important than the economic one? A bilateral treaty called "The Memorandum of Understanding" was signed between the EAS and the ISME during this congress. The memorandum is crucially important and influences the international cooperation between the EAS and the ISME in the area of music education. The most important outcomes of this congress are included in the English scientific kompendium that was published in 2007 under the title " Everything depends on a good beginning – Jan Ámos Komenský". The chief editor was Miloš Kodejška from Charles University, Prague.
Since 2007 the Visegrad Music Team has been working very intensively due to the proceeding pedagogical reform. The reform also influences the education of future teachers of Music. That is why we hold professional seminars where we assess study programmes for future Music teachers in individual countries. We have been trying to formulate real needs of universities in the bachelor´s, master´s and doctoral study programmes. We invite to a genuine effort to improve music education also by means of mass media and new forms of pedagogical approaches.
In the Visegrad Music Team we hold the opinion that perspectives of qualifying growth of employees are of essential importance for further development of every place of work at universities. At Music Education Departments of Faculties of Education two significant areas are interconnected – an artistic one and a music-pedagogical one (or managerial one). Employees of Departments of Music Education of Faculties of Education in the Visegrad countries (except for the Czech Republic) have problems with the second doctorate or inaugural proceedings in this sense.
We believe that nowadays it is essentially important that professional associations arise in European microregions and that they collectively ask e.g. for European dotations for activities that help nations to get closer, exchange important information and experience in the area of music education and culture. That is why the communication among post-graduate students, university pedagogues, chief representatives of cultural and social institutions and public authorities from the Visegrad countries is inevitable. We wish that our activities help in constructing a good informational network of the organisation EAS. We look forward to further cooperation  because it brings the development of understanding and joy.
doc. Dr. Miloš Kodejška, CSc.
Charles University, Prague, Faculty of Education,
M. D. Rettigové 4, 116 39 Prague 1, Czech Republic
miloss.kds@atlas.cz
Bibliography:
KODEJŠKA, M.: Everything Depends on a Good Beginning - Jan Ámos Komenský. Compendium of the 2005 EAS European Music Congress in Prague. Prague,Charles University, Prague, Faculty of Education, 2007, ISBN:80-7290-2934.
KODEJŠKA, M.: Visegrad Seminars, Praha 2008. Compendium of reports from the Visegrad Music      Seminars. Prague, Charles University in Prague, Faculty of Education, 2008, ISBN: 978-  80-7290-382-5.
Translation from Czech: Jaroslava Lojdová
Summary:
Cooperation of the V4 countries (CZ, SK, PL, HU)  in the field of teaching music
The Visegrad development project of the Czech Republic, Slovakia, Poland and Hungary follows the many years` standing cooperation among the universities of V4 countries since 2002. The cooperation focuses on these areas:
- creation of new  teaching tools, their mutual presentation and application in practice
- artistic activities: competitions, festivals, concerts
- media in music education
---

University , Prague – CZ
University of Prešov, Prešov – SK
Szegedi Tudományegytem Juhás Gyula Pedagógusképzo Kar, Szeged – HU
Rzeszowski University,  Rzeszów – PL                                        
Based on the decision of the Council of Ambassadors of the V4 Member Countries which had approved the Project No. 20810394 entitled Development of artistic and individuality values in the opened system of music education, a workshop seminar for university teachers of music education from the V4 member countries was held in Prague between July 16-20, 2008 with the following participating institutions. The seminar was held in Prague, at the premises of the Czech Ministry of Education and at the Jan Deyl Conservatory which, in 2005, co-organised the European EAS Congress and which has been enjoying international recognition for its unique and high quality education concept.
Our workshops, debates and analyses of the state of music education in the compulsory education framework have revealed the following pressing issues:
<![if !supportLists]>§ <![endif]>The curricula for primary schools and secondary schools (gymnázia), aimed at teaching and developing skills, fail to include the aesthetic-artistic skill. We call upon including it among the core skills. In the light of the ongoing decline of personality culture, good taste, and aesthetic feeling of the young generation, we issue this call to include aesthetic-artistic skills in the curricula..
<![if !supportLists]>§ <![endif]>In tertiary education, there is a lack of standardised qualification criteria/benchmarks for academic titles against which one could compare qualifications of arts teachers across universities, like they exist in the world of natural sciences. (There has also been a lack of willingness on the part of the Ministry of Education, department of certification and tertiary education, to define and adopt such criteria/benchmarks.)
<![if !supportLists]>§ <![endif]>As a result of the lack of certification standards of arts activities and qualification (at universities training future teachers), it is difficult to fulfil the criteria required for the PhD degree and other academic titles (e.g. 'Professor'). The existing criteria, which are defined mostly according to natural science and technical universities and their requirements and specifications, need to be adjusted to the needs and specifics of music and artistic education, as it has a significant impact on society's culture and its education. 
These requirements will be submitted to the relevant authorities and institutions, i.e. university chancellors, education ministries (tertiary education department) and certification committees of the V4 countries.
Charles University, Prague, Faculty of Education – CZ
Doc.PaedDr. Miloš Kodejška, CSc................................................
University of Prešov, Prešov, Faculty of Humanities and Natural Sciences – SK
                                               Doc. Mgr.Art. Irena Medňanská, PhD...........................................
Szegedi Tudományegytem Juhás Gyula Pedagógusképzo Kar, Szeged – HU
                                                Univ. Prof. Noemi Maczelka.......................................................
Rzeszowski Unievrsity, Wydzial Pedagogiczno-artystyczny, Rzeszów – PL
                                                Prof. Dr.hab. Mieczyslaw Radochoňski.......................................