ART AGENCY PRAGUE & FESTINFO & TRAVEL NO.1, s.r.o.
in professional cooperation with
The Municipal Library of Prague
held
a display of music cultures of nations in the field of music folklore of children and youth under the title
MUSIC TEMPERED BY YOUTH – PRAGUE 2011
<![if !vml]>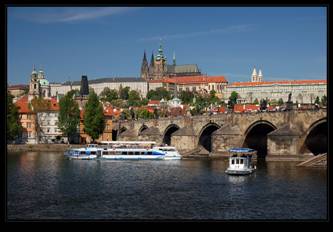 <![endif]>
The main concert of invited ensembles took place in the congress hall of the Top Hotel in Prague in the Czech Republic on 12th March 2011. Several important representatives from embassies of various countries, representatives of the city of Prague, The Municipal Library in Prague, pedagogues from Charles University in Prague and journalists took part in the festival. The opening ceremony started with a welcome speech by the National Coordinator of the European Association for Music in Schools for the Czech Republic – Dr. Miloš Kodejška, CSc., who is a docent at Charles University in Prague. He expressed his acknowledgement to all members and directors of the ensembles for their praiseworthy initiatives and emphasized that national folk songs and dances are true treasure not only of individual countries but of the whole Europe. He thanked all towns, regions and cultural institutions that helped all participating ensembles to come to Prague and to pass their cultural values through the means of their artistic performance.
Dear Friends of music!
It is my great pleasure to welcome you in the beautiful city of Prague, which is located in the heart of Europe. Prague is a city with long-standing cultural and social traditions, where many important historical events took place. The international festival Music Tempered by Youth Prague 2011 carries the idea that singing and dancing unite people from different countries. Each ensemble brings to Prague their precious national and local cultural traditions, which are being passed from generation to generation. They are real gem stones! Thank you for showing true values, for motivating the others and last but not least, for making other people's lives richer and happier. Welcome to Prague and thank you for being here!!!
doc. Dr. Miloš Kodejška, CSc.
EAS National Coordinator for CZ
Charles University in Prague, CZ
Dear Friends,
the organisation Festinfo holds many cultural events every year. One of them is the international festival Music Tempered by Youth Prague 2011. We successfully organised many other cultural activities, such as the festival of modern dances in November 2010. I am happy that our projects still grow on importance in Prague as well as in Europe. I wish all ensembles a pleasant stay in Prague and beautiful memories of this year´s folklore festival.
Dragan Petković
Director of Festinfo
Novi Sad, Serbia
Dear Friends,
it is my great pleasure to cooperate with Festinfo on organisation of cultural activities, which are directed by Mr. Dragan Petković. For my agency Travel No. 1, s.r.o., the most important thing is that all participants of the festival are satisified with the whole stay in Prague. My team is doing the maximum so that all participants are contented, because I know that conditions matter. I wish all members of ensembles a pleasant stay in Prague and I hope that you will keep returning and enjoy the services of Travel No. 1, s.r.o.. I think that music really has the power to unite nations and make our lives happier. That is why I wish you a lot of joy and Good Luck with the festival Music Tempered by Youth Prague 2011!!!
Sven Magdić
                                                           Director of Travel No. 1, s.r.o.
                                                              Prague, Czech Republic  
<![if !vml]>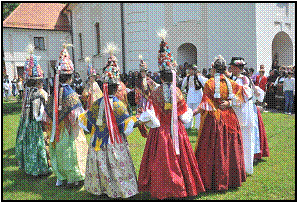 <![endif]>KULTURNO-UMJETNIČO DRUŽSTVO "GORJANAC", GORJANI
The president of the ensemble is Darko Kelava.  
The Company was founded in 1966 and keeps the tradition and customs of the village and the surrounding area of Gorjani. Currently, it has 75 active members and 20 members who are financing the society.
<![if !vml]>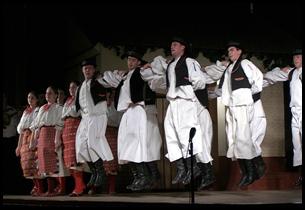 <![endif]>CULTURAL TOMISLAV
Cultural Tomislav has been active since 1903. It was founded as a singing society. Later, the ensemble focused on folklore music. Our folklore group preserves traditional folk songs and dances of our region as well as the whole Croatia.  
For tonight's performance we have prepared choreography  Three  girls want a  grain and we will show traditional songs and dances of Slovenia.
<![if !vml]>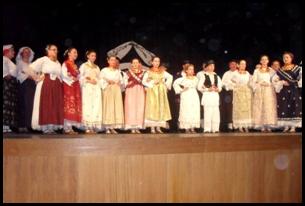 <![endif]>ENSEMBLE DAWN (ZORA)
GROUP LEADER: Mato Ručević
LEADER OF TAMBURAŠI: Toni Tandara
DIRECTOR: Marko Tubić
The folklore society DAWN from PIŠKOREVACA was founded in 1927 as a singing society and since then, it has been very active, having only several short breaks. Today, the society has about 60 active members and has several sections: singing, folklore, children´s section and section of players on tamburas.
For many years ''Dawn'' is the organizer of the event titled 'PIŠKOREVAČKI SOKACI' in which about 10 folklore groups participate.
<![if !vml]>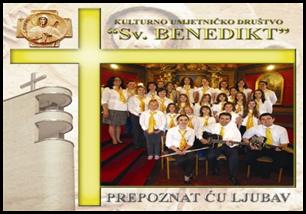 <![endif]>ENSEMBLE SV. BENEDIKT
The ensemble Sv. Benedict comes from Zagreb, and was founded in 2006. The artistic director is prof. Irene Markulin, and the president is Vladimir Štarkelj. The ensemble consists of 33 members of the most varied educational, age and experiential music and singing profile. In its short existence, they recorded two albums: "Christmas yours and mine" and "I will recognize love" with songs of a spiritual character.
Program:
1.Milost – a capella, 2.Silan Bog – a capella, 3.Prepoznat ću ljubav 4.Da te samo dotaknem 5.Što je to, Bože moj – Klara Marinčević,soloist 6. Po kruhu život vječiti  7.O, ljubavi ja pjevam – Marko Ježić,soloist 8.Bože, Tebi pjevam ja – Ivana Gusak,soloist 9.Moj Isus
Songs in reserve:
1.Rijeke žive vode – Ivana Gusak,soloist 2.Zašto taj nemir 3. Pusti mreže te  4. On među nas je došao
<![if !vml]>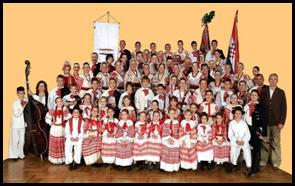 <![endif]>ENSEMBLE Mičevec                                                         
DIRECTOR: Tatjana Rulek
CHOREOGRAPHER: Goran Stokić i Mojmir Golemac
MUSIC: Ivan Potočnik
LEADER OF THE SINGING GROUP: Irena Markulin
LEADER OF INSTRUMENTS: Vladimir Štarkelj
LEADER OF THE DANCE GROUP: Goran Stokić
The society comes from Velika Gorica, has 113 members and has been active since 1996. It is divided into five sections: a female vocal ensemble, a junior and a senior tambourine band, a children and an older folk group. Folklore Society presents the folklore of Turopolja, Posavina, Vukomeričke gorice and Pokuplje.
Annually, it has thirty performances and is the only company with its own library. In 2003, it was awarded by the Zagreb County for their achievements in the preservation of folklore culture.
The society is implementing the project TRADITIONAL CULTURE IN CONTEMPORARY TOURISM and presented it in Hungary and Slovenia. The program educates and creates public opinions and promotes fundamental values of cultural heritage in the area of Zagreb and Zagreb County in Croatia.
CULTURAL ASSOCIATION OF THRACE
<![if !vml]>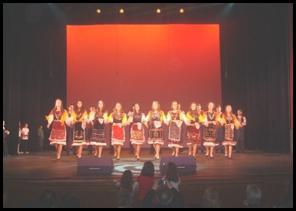 <![endif]>
The Cultural Association of Thrace based in Brussels, Belgium, was created in 1980 by Greek immigrants coming from the province of Thrace in Greece. Our association is composed by one thousand members within Belgium and our folk dance groups include 80 young dancers (from 4 to 25 years) split in three groups (small, medium and young).The main objectives of the association are:
- Organization of cultural and social activities in link with the province of
   Thrace.
- Teaching folk dances from the province of Thrace as well as from all over 
   Greece.  
<![if !vml]>
<![endif]>CULTURAL SOCIETY OF PENTALOFOS    
CONTACT: Dimitris Marras
TEL.-FAX:    00302441022852,
TEL.MOB.:   00306932943313
E-MAIL:     dimimara@otenet.gr
In the beautiful district of Thessaloniki and in the distance of fifteen kilometers away from the center   of the city, you can visit the Municipality of Kallithea and the Community of Pentalofos. The Cultural Society of Pentalofos was established in 1982. There are almost three hundred  members. The purposes and priorities of our Society  are  mainly  to preserve the folk tradition  and  to  develop  activities like dancing,  theater,  painting  and  gymnastics.
         Till now, we have achieved many of our targets: one hundred and fifty children and teenagers have joined the dance groups.  They have been trained to dance Greek dances from all over the country, especially the Macedonian ones.
         The dance  groups that are going to perform today  have  taken  part  in  many  festivals  here  in  Greece as well as abroad (Hungary, France, Belgium, Bulgaria, Italy, Cyprus, Spain, Czech Republic, Croatia,Turkey and Serbia)  with  success.
         Twice   per   year, we organize cultural activities with Greek and foreign dance groups.
Besides this, we organize lectures very often with interesting speakers on cultural, social and medical issues.
The Cultural Society of Pendalofos plays a very important role in our district. We are very interested in developing cultural activities as well as taking other initiatives.
         We believe that we will gain support in this effort by other cultural societies.
<![if !vml]>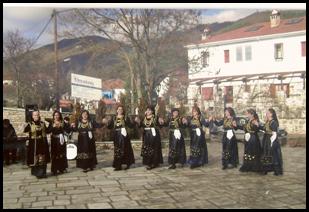 <![endif]>ASSOCIATION VLATSIOTON PTOLEMAIDAS "PROFITIS ELIAS"
CONTACT : DIMITRIS  MARRAS
TEL.-FAX:     0030-24410-22852
TEL.-MOB:    0030-6932943313
E-MAIL:      dimimara@otenet.gr
The Associaton VLATSIOTON PTOLEMAIDAS "PROFITIS ELIAS" was founded in 1963 by a group of young people, inhabitants of a village called VLASTE (a mountainous beautiful village in the northwest part of northern Greece), who came to live at a near city called PTOLEMAIDA.
The purpose of creating this association was to preserve, continue and revive local dances, songs and customs of VLASTE.
Ιn 1977 the first adult dancing group was established. Ιn 1980 two more groups joined:  a children's and an adolescents' dancing group. At the same time a traditional group of singers was established; this chorus performs traditional songs of VLASTE.
The Associaton's dancing groups participated in many folklore festivals both in Greece and abroad and have always gained appreciative comments by the audience. The ASSOCIATION VLATSIOTON PTOLEMAIDAS has also developed a rich activity organizing cultural manifestations both in Vlaste and Ptolemaida.
Since the summer of 1998 the ASSOCIATION VLATSIOTON PTOLEMAIDAS has established a meeting of folklore dancing groups which takes place at the picturesque village of Vlaste.
<![if !vml]>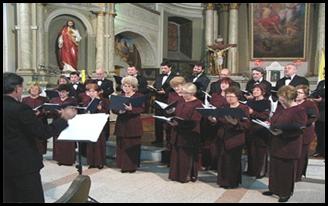 <![endif]>CHAMBER CHOIR "MUSICA HUMANA"
The chamber choir "Musica Humana" from Ada was founded in 1993 by the initiative of the group of  teachers from The  Music School "Bartok Bela" from Ada. Lippai Monika has been the conductor since 2004. The art director is Birkaš Janoš. The chamber choir "Musica Humana" has been primarily cherishing choral singing in their community and in the whole country since 2001. Ada is the host and the chamber choir "Musica Humana" is the main organizer of the concerts of mixed choirs of the international choral festival "Bardoš  Lajoš".
ENSEMBLE G. MILANOVAC
<![if !vml]>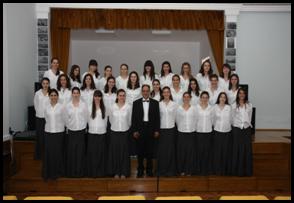 <![endif]>The women´s choir of the grammar school "Takovski ustanak"-SERBIA, is performing spiritual and traditional music by composers from our country as well as from abroad. The conductor is Prof.Petar Rančev. The performances of the choir are always very successful at competitions and during the last year the women´s choir was twice awarded – with the first prize at the Republic competition in Novi Sad and with the bronze medal  at the same competition of youth choirs in Novi Pazar.
Besides participation at competitions, the choir performed at numerous celebrations and manifestations in schools, companies...in Gornji Milanovac and surrounding towns. 
<![if !vml]>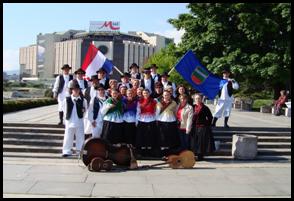 <![endif]>"PITOMAČANKA"  FROM PITOMAČA                                     
PRESIDENT OF THE ASSOCIATION: Milan Šelimber
The artistic association PITOMAČANKA from Pitomača was founded in 1985 by our mothers and grandmothers. The association has got the name PITOMAČANKA because at the beggining of its existence, it consisted of women only from the region Pitomača.
<![if !vml]><![endif]>ENSEMBLE IVAN VITEZ TRNSKI

                 
St. Stjepana Radića 56
43272 Nova Rača
Nova Raca is a village situated in the valley between the road Bjelovar - Zagreb, and the River Česme. Nova Raca village is mentioned in historical documents dating back to 1245 when it belonged to the old tribe Česma. The cultural and artistic association Ivan Vitez Trnski was founded in the 50s of the last century.
Since 1983, traditionally at the end of May, we have been organizing folklore meetings with the main goal of fostering diversity and richness of folklore heritage and folk customs of our country, of cooperation and friendship with cultural and art associations from all over Croatia and abroad.
ENSEMBLE ŚUMADIJA                         
<![if !vml]>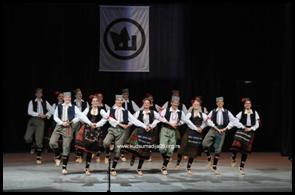 <![endif]>So far, we have achieved many of our targets. For example, we are double winners of the city contest "Amateurs of our own city 2009 and 2010" for children, and we officially became the best children's ensemble in Belgrade! We won the first prize in the children's folk dance competition in Belgrade "Ethno league 2006" and our success was repeated in the "Ethno league 2007", and the "Ethno league 2008", where we could be proud of extremely positive reviews of our performances, which were rated as a very attractive view of national songs and dances. During the 12th Balkan competitive children's folklore festival "Ohrid 2007", we won the first prize for technical and stylistic coordination of the ensemble.
For the past five successive seasons we have been providing our audience with successful annual concerts. We showed a variety of programs with attractive choreography by our art directors and choreographers Ivan and Dragan Zmiric, which comprised dances from different regions of our country. We were awarded with excellent reviews by the most influential specialists in the world of folklore music! We celebrated five years of the folk dance ensemble by a very beautiful concert in the " Dom sindikata", and it turned to be complete success.
We participated in over 100 concerts in our country and abroad, we performed at all the great scenes in Belgrade, and abilities of our dancers are admired by more than 20.000 people. Our performances were shown on TV (Happy, Pink, Kanal D), and the greatest reward came when we could participate in "Zikina sarenica" on the national television. The local and national press have written beautiful reports and announcements of our concerts!
We managed to organize four concerts entitled "Šumadija 05 and friends." Events that have already become a tradition, gather a large number of folk dance ensembles from Belgrade, with the aim to establish good relationships and contacts among dance ensembles and to help the children become better artists.
The greatest praise for our young dance ensemble is that we have all acted in accordance with the norms of cultural society, and the dance ensemble showed a high level of education and friendship.
We visited 20 cities: Barcelona, Rome, Venice, Nice, Cannes, Monte Carlo, Verona, Vienna, Prague, Budapest, Thessaloniki, San Marino, Pesaro, Ohrid, Hanioti…
                       Program:
Dances from Western Serbia • Dances from Nisava Valey • Shepherd dances from Eastern Serbia • Dances from Banat • Dances from Central Serbia • Dances from Pirot • Dances from Leskovac • Dances from Kosovo • Katanka • Dances from South-eastern Serbia • Dances from Serbia • Vodarke – Girls who bring water – dances from Macedonia • Shopsko dances • Dances from Vojvodina • Dances from Bujanovac
Folk dance ensemble "Šumadija 05" has:
- children's folklore ensemble
- senior folklore ensemble                                                                                                                     - singing group
- music orchestra
- national costumes
- all night folklore program
ARTISTIC ASSOCIATION KAMEŠNICA – ISLAND ON CETINA
                                                                                                                                    ADDRESS: Trg Franje Tuđmana 8
PRESIDENT :  Ante Norac – Kevo
GROUP LEADER : Josip Brčić                                                        
The artistic association Kamešnica was founded in 1998. It was initiated by the citizens of Island. From the beginning, the purpose of this association was to preserve old songs, music and customs of this region.
<![if !vml]><![endif]>ENSEMBLE "ARAGATSI SHOGHER"

                     
The dance group "Aragatsi shogher" was founded in 1980 and year by year
by developing and changing generation is working till nowadays. Our members start dancing at the age of 11.
The repertoire of the ensemble consists of traditional Armenian national and folk dances. The music group of the ensemble contains national Armenian music instruments such as zurna, dhol, duduk, qamancha,etc...The musicians are adults.The costumes of the group are designed and made according to typical Armenian ornaments; they are very original and specific.The group has taken part in a large number of international festivals, for example in Greece, Czech Republic, Slovakia, Hungary etc... and has gained a lot of success.
<![if !vml]><![endif]>
CULTURAL CENTER OF FALANIS
AND SARANTAPOROU

 
CONTACT:  DIMITRIS  MARRAS
Tel-fax        0030-24410-22852
Tel –mob    0030-6932943313
Email:        dimimara@otenet.gr
Falanis cultural center was founded in 1996. The center offers classes of painting, music, and dance. The number of classes is up to 200. The ladies´ club consists of 60 members and performs traditional dances of every single area of Greece! Without doubt, the center has gained a remarkable reputation in the world.
<![if !vml]>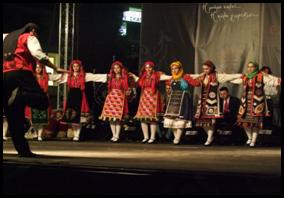 <![endif]>CULTURAL DANCING ASSOCIATION                       
OF THRAKES KOMOTINI
CONTACT:   DIMITRIS  MARRAS
Tel-fax         0030-24410-22852
Tel-mob       0030-6932-943313
Email:         dimimara@otenet.gr
Tel
The CULTURAL DANCING ASSOCIATION OF THRAKES KOMOTINI (POLITISTIKOS CHOREFTIKOS SILLOGOS THRAKON KOMOTINIS - PCHSTHK) was established in November 2008 by people who have common love: traditional music and dances of Greece and particularly of Thrace.
The CULTURAL DANCING ASSOCIATION OF THRAKES KOMOTINI accounts more than 250 members, most of whom have a long-term relationship with traditional dances, through their participation in other cultural associations and their self-interest. The main purpose of this Association is to maintain and rescue the tradition of our area and nation.
In the short time of its existence it has participated in a lot of events all over Greece and took part in some of the most important TV programs concerning tradition and culture presenting a wide range of dances and various traditional costumes.
Pchsthk's main concern is to maintain customs and traditions and to study of historical, cultural and traditional physiognomy of Thrace and the rest of Greece. Special attention is given to dances and songs, considered by the most ancestral and social happenings the only purpose of maintaining, rescuing and viewing them.
Τhe eleven dancing groups of the association account more than 230 dancers from all ages, 3 children's groups, adolescents, adults (beginning and advanced) even the teachers are becoming its members. There are taught dances from all over Greece, while there is a particular preoccupation with the music and dance tradition generally.
The association owns a great number of original traditional costumes from various regions of Thrace and elsewhere.
LAOGRAFIKI ESTIA TRIPOLIS                                   
LAOGRAFIKI ESTIA TRIPOLIS  was established in 2007 by a group of dancers and people involved in the Greek tradition and especially in the traditional dance for many years. Based in the historic capital of Arcadia, it has already developed a rich action in Greece taking part in nationwide and international festivals, state television broadcasts, and has developed a considerable research activity in dance, music and costume. Currently, the Association has more than 20 groups which comprise children, teens and adults and is leading the effort to organize an international festival in Arcadia, believing in the brotherhood of people through their national identity and common human expression through music and traditional dances.
Το ιστορικό του συλλόγου
Ο ΠΟΛΙΤΙΣΤΙΚΟΣ ΧΟΡΕΥΤΙΚΟΣ ΣΥΛΛΟΓΟΣ ΘΡΑΚΩΝ ΚΟΜΟΤΗΝΗΣ (ΠΧΣΘΚ) ιδρύθηκε το Νοέμβριο του 2008 από ανθρώπους που κοινό χαρακτηριστικό τους έχουν την αγάπη για τη μουσικο-χορευτική παράδοση της Ελλάδας, ιδιαίτερα της Θράκης.
Είναι μέλος της Πανελλήνιας Ομοσπονδίας Θρακικών Σωματείων από την ίδρυσή του.
Η ονομασία του σημειολογικά αλλά και ουσιαστικά δόθηκε, επειδή περιλαμβάνει στα ιδρυτικά του μέλη Θρακιώτες οι οποίοι κατάγονται από όλες τις περιοχές της Θράκης (Βόρεια, Ανατολική, Δυτική).
Οι περισσότεροι από αυτούς έχουν μακροχρόνια σχέση με αυτόν τον τομέα, μέσα από τη συμμετοχή τους σε άλλους πολιτιστικούς συλλόγους και λόγω προσωπικού ενδιαφέροντος.
Η δημιουργία του συλλόγου ήταν φυσική απόρροια της θέλησης που εκδηλώθηκε από όλους για την ίδρυση ενός φορέα μέσω του οποίου θα διοχετεύσουν την εμπειρία, την ενέργεια και τις ιδέες τους στο κοινωνικό σύνολο, προτείνοντας δράσεις για την παράδοση και τον πολιτισμό, για τα οποία πιστεύουν ότι είναι η πιστοποίηση της ταυτότητας κάθε λαού.
Στο μικρό χρονικό διάστημα της λειτουργίας του έχει λάβει μέρος σε ένα πλήθος εκδηλώσεων μεγαλύτερης ή μικρότερης εμβέλειας .
Κύριο μέλημα του ΠΧΣΘΚ είναι η διατήρηση των εθίμων και των παραδόσεων και η μελέτη της ιστορικής , πολιτιστικής και λαογραφικής φυσιογνωμίας της Θράκης καθώς και της υπόλοιπης Ελλάδας. Ιδιαίτερη βαρύτητα έχει δοθεί στην ενασχόληση με το χορό και το τραγούδι, που θεωρούνται από τα πιο αρχέγονα και έντονα κοινωνικά δρώμενα, με σκοπό τη διατήρηση και την προβολή τους.
Στοχεύει επίσης να λειτουργήσει σε ένα ευρύτερο πλαίσιο συνεισφοράς στο κοινωνικό σύνολο με τη δημιουργία τράπεζας αίματος, καθώς και τη συμμετοχή του σε φιλανθρωπικές εκδηλώσεις και τη βοήθεια σε κοινωφελή ιδρύματα. Περισσότερες πληροφορίες για το σύλλογο θα βρείτε στο
http
://
sylogos
-
thrakon
.
blogspot
.
com
/
Στα χορευτικά τμήματα του ΠΧΣΘΚ συμμετέχουν άνθρωποι όλων των ηλικιών.
Λειτουργούν τμήματα παιδικά, εφήβων, ενηλίκων (αρχαρίων και προχωρημένων) και παραστάσεων, οι δε δάσκαλοι των τμημάτων είναι και μέλη του.
Σε πολύ μικρό χρονικό διάστημα από την ίδρυσή του αριθμεί πάνω από 200 μέλη.
Εκεί διδάσκονται χοροί από όλη την Ελλάδα, ενώ υπάρχει ιδιαίτερη ενασχόληση με την μουσικο-χορευτική παράδοση της Θράκης μέσα από έρευνα και καταγραφές.
Ο ΠΧΣΘΚ διαθέτει στην ιματιοθήκη του ποικιλία φορεσιών από διάφορες περιοχές της Θράκης , πιστά αντίγραφα των αυθεντικών.
Ιδιαίτερα σημαντική θεωρείται η συντήρησή τους και η άψογη και σωστή εμφάνιση των χορευτών, με τη γνώση από μέρους τους της ορθής χρησιμοποίησης βασικών εξαρτημάτων της φορεσιάς όπως ζωναριών, κεφαλόδεσμων και άλλων.
Για τα μέλη του ο ΠΧΣΘΚ αποτελεί ένα σημαντικό κομμάτι της ζωής τους και πιστεύουν ότι σαν φορέας πολιτισμού έχει την ενέργεια και τη διάθεση να προσφέρει στη διατήρηση και προβολή της παραδοσιακής κληρονομιάς του τόπου τους.
<![if !vml]>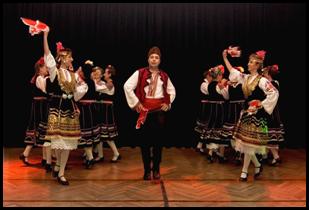 <![endif]>ENSEMBLE FOR BULGARIAN DANCES KITKA                           
<![if !vml]><![endif]>
ENSEMBLE MLADOST
PALE CROATIA                         
<![if !vml]>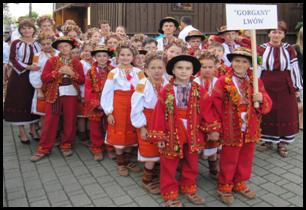 <![endif]>ENSEMBLE GORGANI
LWOW, UKRAINE                                                   
<![if !vml]>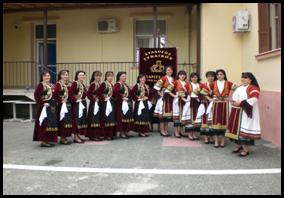 <![endif]>THE ASSOCIATION OF
TSARITSANI´S WOMEN

                      
CONTACT :   DIMITRIS  MARRAS
Tel-fax:            00302441022852
Tel –mob:       00306932943313
Email:           dimimara@otenet.gr
The Association of Tsaritsani's Women was founded in 1988. It's goal is to provide farmers´women with supplies, knowledge and abilities so that they can autonomously define their lives. Today, it accounts 400 registered members and it is addressed to every woman regardless of her age. A brief report in the programs that have functioned from 1988 until today convince us about its progressiveness. Departments of chorus, painting, embroidery, chess and traditional dancing are some of them. The dancing departments are constituted by 150 men and women dancers aged from 4 to 64 years, who through participating in traditional festivals are presenting Tsaritsani not olny in Greece but also abroad.
The Association organizes cultural events such as the Clean Monday with traditional bean soup and dances from Thessaly including the traditional dance gaitanaki, and secondly the <<pie feast>> that takes place each year in August, a traditional festival of flavours and
dances from the whole Greece. Briefings with lectures and discussions by chosen intellectual persons and academics are provided to women, with topics on health, social care issues and with educational and training programs that facilitate their integration in the job market. Last but not least, the program <<parents school>> helps new parents by giving them helpful advice.
        A lot of women passed, configured and completed programs, supported initiatives or covered needs, worked voluntarily and together with partners contributed to recognition of the Association of Tsaritsani's Women as a social organisation with morals, useful in the women's world and in the youth.

<![if !supportLineBreakNewLine]>
<![endif]>
<![if !vml]><![endif]>
CULTURAL CENTER OF FALANIS
AND SARANTAPOROU

 
CONTACT:  DIMITRIS  MARRAS
Tel-fax        0030-24410-22852
Tel –mob    0030-6932943313
Email:        dimimara@otenet.gr
Falanis cultural center was founded in 1996. The center offers classes of painting, music, and dance. The number of classes is up to 200. The ladies´ club consists of 60 members and performs traditional dances of every single area of Greece! Without doubt, the center has gained a remarkable reputation in the world.